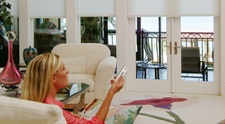 Now you can push a button on your remote transmitter or wireless wall switch and watch as your fashionable solar shades roll up and down to conveniently provide shade from the sun. Now that using your window treatments is so easy with automation, you'll find yourself using them more and realizing their true benefits.

Automation provides instant privacy when you want it and allows light to enter as you wish. That means more energy efficiency and better sun protection for your valuable furnishings and carpet - you gain improved control over the interior room environment. Further, window covering automation makes it so much easier to access hard-to-reach windows above a counter, above a bathtub or in a high foyer. Use of your automated window coverings is always available at the simple press of a button.

Automation also makes your solar shades last longer by eliminating the manual pulling, tugging and associated wear and tear. Because these automation systems are easily concealed behind a decorative headrail or valence, your automated window treatments will also have the same aesthetic appeal as a manual treatment and match any decor. Automated window treatments will also save you time, just press a button to change the position of your interior window coverings without having to go from room to room.

Our battery-powered motors of course don't require electricity and use a patented lithium battery technology that limits battery replacement providing an added benefit. Another extremely important safety factor for residential blinds and shades is that window treatment automation eliminates hanging cords, which can be dangerous around small children and pets.


Battery Operation

Individual Control
Operate just one solar shade or blind at a time


Single Channel
Wall Switch

Telis 1
Single Channel Remote
It's easy to operate your interior covering. One button lowers the blind or shade, another raises it, and the middle button stops it. You can even use the remote control to operate your window treatment from anywhere in or around your home.
Group Control
Control your shades and blinds as you wish from one control point


Four Channel
Wall Switch

Telis 4
Four Channel Remote
Control up to 4 individual window coverings or 4 groups of window coverings. Each solar shade is put on its own channel for individual operation. A 5th channel will open and close the shades simultaneously.


Hard Wire Operation (Electrician Required)
This is an ideal lift system for extremely wide solar shades, high windows or heavy shade materials. It can power a single or multiple solar shades. Rollers are available in 1.5", 2", or 2.75" diameters. The motorized roller is designed with preset stops to prevent the shade from rolling too high or too low. One or two solar shades can be operated from a single switch. Or with the use of relays one switch can operate 100 shades.

Standard Motor
For use in conjunction with a hardwired wall switch.

Sonesse 50 RTS Motor
This hardwired motor uses a radio frequency remote instead of a switch. This saves the cost of a relay system if more than two shades need to be connected to the same switch.

---